Customer Reviews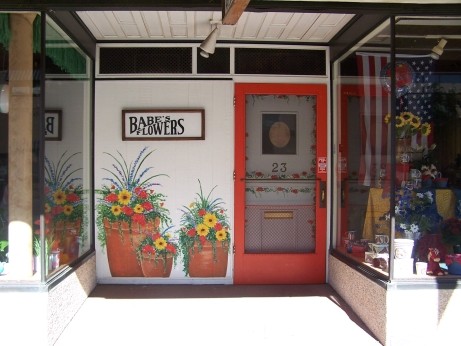 BABES FLOWERS, INC.


Local

Sheridan

,

WY

florist

The people at Babe's Flowers attend to people! Others ignore, or don't care. Your wish is their ultimate goal. Love the quality service!
I chose the custom arrangement option (was too lazy to look through all the arrangement options) and the bouquet was BEAUTIFUL. Pro tip: let the florist be creative and you'll get an amazing and unique arrangement.
Ordering was easy. Calls were answered right away. Flowers were delivered right on time. Flowers looked nice.
Everything was great. Flowers and the candy bouquet were a nice surprise. Flowers were fresh and there was a nice variety of candy.
The flowers were the tops, fantastic, so pleased with your business, made a lot of people happy
Beautiful arrangement. Thank you so much!!!!
The arrangement was beautiful and professionally done! Overall the shopping experience at Babes Flower was a 10+!
Was delivered in a timely manner, and the recipient really like it.
I went to the website and put in an order with only two days notice before I needed the arrangement delivered. I chose to do a custom arrangement and gave a few details for guidance. The result far exceeded my expectations and was AMAZING!! Made a special little cowgirl's birthday perfect!! Thank you from the bottom of my heart!
I was concerned ordering out of state. But after seeing a video of my sister receive her beautiful birthday bouquet and the tears of joy on her face, I knew I made the perfect choice! Thank you for making her day special!
Heidi and the entire Babes Flowers crew are the BEST to work with!! They take the time to listen to what you're looking for and their flowers are fresh and beautiful! I highly recommend Babe's flowers to anyone who is looking for the Customer Service of days gone by!!
My mother loved her bouquet!
Great friendly delivery and beautiful flowers
Beautiful arrangement. Mom loved the flowers! Thanks Babe's!!
My niece loved them, they looked beautiful and you guys got them to her in her birthday- what more could I want? Perfect! Thanks!
I was extremely pleased with your selection and service. The person I sent the flowers absolutely loved them.
Both the floral and candy arrangements were wonderful!
My mother was very happy with her flowers from Babe's Flowers in Sheridan, Wyoming. Delivered exactly as requested. Overall, very satisfying experience!
Absolutely a beautiful birthday bouquet!!
thank you flowers were lovely.
Babes is always friendly and they create and deliver beautiful high quality flowers Thank you for making people's day brighter with your service and deliveries!!
Absolutely beautiful...top notch. Made my day....
I loved the small ized arrangement in the unique vase and utilizing different floral and greens than the average. thank you!
FLowers were beautiful, however, even changing water everyday, they went down in 5 days.
The floral arrangement was GORGEOUS! I definitely recommend ordering from Babes Flowers.
The flowers were spectacular, she loved them.
Return customer, quick reliable service and the most beautiful flowers. Thanks.
Your website was easy to use. I'll definitely be a returning customer.
My Mom loved the flowers!
Delivered just hours after ordering.
Beautiful flowers and they arrived early in the day. Great quality!
I tried to hit the 5 button but it's not working. Anyway, love you guys you do such a great job! Thsnks
Babes flowers always cremates beautiful arrangements and works diligently to ensure they have met your requests. A wonderful place to do business with, great people!"
Great Service! Flowers lasted over ten days.
Babe's Flowers is always reliable and delivers fresh, gorgeous flowers. They are my go to flower shop in Sheridan!
The flowers were fresh and beautiful she loved them
Another fantastic job. Guys, if you want to stay out of trouble, call Heidi and the crew here. Always do a great job. Thanks again Babes.
Easy to work with and very responsive to any feedback.
Beautiful birthday bouquet delivered on time.
The flowers from my husband & daughter/husband both were Wonderful, full of familiar & new to us, still in top form. We've always prefered Babes, wonderful.
Excellent, we always get our flowers from Babes
No problems and an absolutely arrangement was delivered.
Your flowers are always fresh and arrangements are always top notch! It's so enjoyable to see your window dressings too!
Excellent service and arrangement from Michelle Ordered from Australia, very impressed Thank you
The dozen roses I ordered for my special woman were beautiful. Thank you!
We were very pleased...the bouquet was just as pictured and what we wanted. THANK YOU!
User friendly website, quick and convenient. Flower delivery looked BEAUTIFUL and has lasted a LONG time. Highly recommend this company.
Did a great job making sure the order was quickly delivered in another town.
Always wonderful customer service and beautiful flowers!
When I googled florist in Sheridan Wy, a few florists came up. I picked Babes because they had the nicest arrangements and the best price.
Name:
First Assembly of God C
Ordered online for the first time and it was great! Will do ti again...when the flowers I ordered didn't come in Babes called me and we made other delivery arrangements. They are wonderful!!
They are beautiful. I received the roses on Monday and today is Thursday and they are still gorgeous! Thank you!!!
Beautiful arrangement was as described. Arrived promptly. Very happy.
Flowers were even more gorgeous than pictured online. Delivered on time. Very great job yet again! We come back every year.
Received beautiful arrangement for my birthday ordered by out of town family. I wasn't home first delivery, but the came back immediately when I called. Very impressive!!
Loved the arrangement! Thanks!
Thank you for delivering such beautiful flowers!
The flowers were beautiful! I wish they would've gotten to the place of delivery a little faster but it's my fault for ordering flowers at the last minute! Babe's has beautiful flowers!
Arrangement is very nice and of course my favorite color-I am sure lots of mothers were very happy with their arrangements. Thank you.
Fantastic variety of flowers, user friendly website, the arrangements were amazing. Very quick and easy!
The order was taken care of efficiently. Babes has done a good job on everything for me for over 45 years. Dependable !
Florence really liked the arrangement to help her celebrate her 90th Birthday
fully bloomed yellow roses were delivered in a simple glass vase. Wonderful smell, all flowers were perfect, fresh and larger heads than the usual. Lemondrop certainly is a great description. Nice fragrance. Courteous delivery person.
the recipient of the flowers loved them, sent photo to me and they were beautiful. Thank yo.
I'm uncertain which is the best score but Babes is a 10 in my book!
Thanks for the awesome service guys! I called in and requested that the flowers be delivered before 12:00 PM instead of 1:00 PM and you guys were able to fulfill. :) That's great business!
As always excellent customer service, Heidi goes above and beyond to make sure we get the best service possible!
Flowers arrived and looked great.
The flowers are always so pretty and last long!
I received lilies- they were gorgeous and the arrangement looked amazing.
a most beautiful bouquet!!!
My Great Aunt loved her bouquet. It was gorgeous and became a focal point of her 85th birthday party. Thank you so much!
Professional communication and service. Did a great job in bad weather!
Very Beautiful flowers and were ordered online and it's Excellent service!
The bouquet for my Aunt's 85th birthday was gorgeous. Thank you for adding a special touch to her day!
My parents lived their 25th anniversary flowers. Thank you!
My mom loved the chocolate basket and I really liked how I could customize it to make it the best gift!
All the flowers/plants I received for holiday seasons were GREAT and still out for viewing. Thanks :)
Flowers were gorgeous, my girlfriend loved them, and even her 2yr old said "Mama, your flowers are so pretty!"
Very fresh and prompt service
I ordered the chocolate basket for my moms' birthday and she loved it! Will def order it again!
Ordered the fruit basket for Mom, she was "over the moon" with the contents! Thanks for helping to brighten the Holiday Season
Flowers well received and still looking good.
I heard back from the party and the flowers were very much appreciated. Thank you!
Two orders were delivered to me yesterday with both in good shape on a cold and windy day. Well done as always :)
Babes flowers are always beautiful and fresh. And the delivery man is a gem.
Another beautiful bouquet and another happy recipient! Thank you for your excellent quality!!
Had no problem.The floral arrangement was as advertised and delivered on time.
The flowers I ordered to be delivered were beautiful. Thank you
Great as always. Thank you for your service.
I received the flowers that I ordered for my Aunt's 85th birthday. They were lovely, as normal. Thank you for having such high quality products!! She loved them!
The arrangement is beautiful, also had purple flowers because my son knows that is my favorite color. Good job!! Thanks, Karen
Hi! My sister and I ordered a bouquet for our mother's birthday. I didn't see it in person but the ordering process and delivery went very smoothly! My mother loved the bouquet and the picture I saw was gorgeous!!! We are so pleased with everything.
The flowers looked exactly like they did in the ad and arrived on time.
The online experience was very simple and easy to use. The prices were a little higher than I would have liked but I also expected it.
My flowers were absolutely gorgeous!. Healthy, abundant and the color combination was just lovely. Very happy!
Fast, responsive, and beautiful flowers! Thank you!
I have used Babes Flowers for years and have never been disappointed. Their flowers are fresh and beautiful. My only suggestions in including an extra packet of chemicals to extend the life of the bouquet.
I was pleased with the fast delivery and the flower arrangement was beautiful.
Great birthday candy gift in smiley cup
My great-granddaughter loved them. Thank you
Absolutely gorgeous arrangement!!! I always order from Babe's....the BEST florist in town!
Arrangement is beautiful-love the deep purple ones because I am a purple nut-arrangement is very nice and a harmony arrangement.
the arrangement was beautiful, still looking great days later.
My friend was thrilled with her birthday arrangement! She said it was so beautiful, colorful and had some of her favorite spring flowers in it. It was a big hit!!!
My mother was very pleased with the arrangement. I didn't see it.
Absolutely beautiful! The flowers are so pretty and, they were delivered on time!
Babe's was not my first choice and I don't have a good reason why. I was not familiar with shops in Sheridan so I ended up on another site...big mistake. That order had to be canceled. Once I did get to Babe's the ordering process, selection, pricing and service were top notch. My arrangement was delivered on time, was beautiful and very much appreciated by the recipient, my sister and her family! In the future, Babe's is where I'll go...!!
She absolutely loved them said they were beautiful thank you for giving her a smile on such a horrible time
Service was prompt and courteous
The flowers are gorgeous and there always delivered with a smile! Thank you for the email instructing me to change the water every other day. That is helpful.
Name:
Martha Jack Alex and Chris C
Babe's is our go-to flower shop in Sheridan. Bouquets are always fresh and gorgeous, no matter the cost.
I was in need of a florist to deliver a bereavment plant to a small near by town. The lady I spoke with could not have been more helpful, caring, and nice. The plant was delivered the same day, and once I saw a picture of the plant, I could not have been more pleased. The whole transaction, was fuss free. I would highly recommend this florist.
My Aunt loved the arrangement. She said the blooms were large and the vase is really cute. Thank you so much for making her birthday special!
Heidi's Reply:
Date: Feb 19, 2018, 11:44 am

Thank you Rebecca. Glad she liked them!!
Flowers are beautiful and the service was top notch. We picked them up and because there would have been a delivery fee, more flowers were added to make up the difference. They still look great. Thank you.
Fantastic service. I heard the flowers were beautiful.
Love Babe's Flowers! Their arrangements are always beautiful and CLASSY! And what great people they are!
Heidi's Reply:
Date: Dec 29, 2017, 12:12 pm

Thank you!!
Excellent service. Sent roses to my aunt in Sheridan. Ordering online was easy.
Always beautiful arrangements delivered on time and professional! Thank you.
My order was sent in a timely manner and the staff was very sweet. Being my first experience ordering a plant for a friend, it was an easy process. Thanks Babes Flowers!
Couldn't deliver that day, but took to her work next day. Could have called me, but I called and got it worked out. Flowers looked great!
Flowers beautiful. Still look great after a week!
The flowers arrived timely and look fresh and beautiful.
Flowers look great. Good service. Called to see if I was home. Say hi to Frank. Ron Causer.
Have had never had any problems. The flowers I send always have arrived on time and are exactly what was ordered. Will be ordering again from them.
Above and beyond! Babe's delivered a beautiful arrangement-last minute even as there was a delay in my web order. Great service, great flowers.
My flowers are still beautiful, delivered Friday. I don't know when they were ordered so not sure how easy it was to order online or if they were delivered on time but you would have to check with my son, who ordered them from Texas.
Excellent! Thanks for delivering on time.
The flowers were so bright and beautiful. They brightened up my day and I am still enjoying them a week later. Absolutely, recommend!!
As always, a very beautiful arrangement in a vase!! Never a disappointment! Thank you again!
The fruit basket was fabulous!
Always a beautiful arrangement. Thank you.
I received these as a gift from my job, they are just a gorgeous arrangement!! The teddy bear, balloon and chocolate were a nice touch too!
Very full and beautiful arrangement.
Excellent service and product, will be using Babes again. Thank you
Flowers are always beautiful! Babe's NEVER disappoints
Love the flowers! Still look amazing and smell wonderful 4 days later.
The arrangment far exceeded expectations I'll get my flowers here all the time! Great price compared to online BS !!!
Beautiful flowers! My husband sent them to me for my birthday. :)
The arrangment far exceeded expectations and was delivered same day. I'll get my flowers here all the time!
As always, its a pleasure working with Babe's! We love Heidi and her whole Family!!
Easy as pie to order. Beautiful flower arrangement
Loved the flowers. They were gorgeous, and exactly what my husband ordered. Enjoyed the single rose the next day also. Thank you!
Easy to use website, and my relatives were very happy with the flowers I sent.
I received a beautiful floral arrangement from Martha Davey. The delivery person was very nice and the arrangement is very nicely done. It has brightened my week. Thank you.
Babe's always has the the best customer service and gorgeous flowers!
The flowers were perfect!
Very pleased with arrangement, it was sent to my daughter and son-in-law for their anniversary. Delivered ontime.
My arrangement is beautiful and arrived early in the day. I love that it has a variety of flowers...seven or eight, I think...even though it is small. The sender was a little worried, though. She was expecting a delivery confirmation via email and hadn't received one several hours after delivery.
Ordered flowers for my daughter and son-in-law's 15th anniversary. My daughter sent me a picture, flowers were very nice and delivered on the same day. I was very happy with the service.
I ordered birthday flowers for my mom and they were BEAUTIFUL! I ordered online so I wasn't sure what they would actually look like but they did a fabulous job. I would highly recommend Babe's♡
The flowers I received were arranged beautifully. They were delivered to me in a timely fashion. I live out of town, so I was surprised to get them so quickly.
FANTASTIC!!! Babes is the best.
It was a beautiful bouquet but it began to drops the petals in a few days. The tulips did first & then the roses never open up & began to dry up.
The fruit basket was described as exquisite and very nice to have when he had a little appetite. They tell me they at it all. I was very glad to hear that because I worried just a bit you might not be able to put together a nice basket so far from fruit growing areas.
I selected the Magenta Sunset arrangement for a funeral. Honestly, it was even more beautiful than the photograph. I was very, very pleased. Thank you so much.
As always, you provide beautiful arrangements and a great delivery service. Thank you for a great experience! Patty
I was so pleased with both the product and the service; couldn't have been better.
The on-line order was very easy and the flowers were delivered on time.
Sent to daughter-in-law, and she loved it. Sent me photo-beautiful arrangement. Thank you!
Everything went as planned. Nice work!
The arrangement was beautiful. Had many compliments on it. Thank you for your promptness.
Have only a couple of minor criticisms, it would be nice if the picture of candy and balloons were shown, and to have a larger selection to choose from. Other than these two minor things, I found them to be an excellent place to do business with.
Absolutely stunning custom arrangement!!Babes always goes above and beyond.
Babe's always does an amazing job with flowers and ensuring that any occasion that is deemed special enough for flowers gets a high quality look. They were also very prompt with the delivery of the flowers after I ordered, and my mom loved the bouquet, especially the variety of flowers and colors used.
I THINK BABES FLOWERS, INC. IS AWESOME!!
Babe's Flowers did a great job. The bouquet looked exactly like what I ordered. The flowers were beautiful and long-lasting.
I live in Colorado currently and had flowers sent to my mom's office in Sheridan for her birthday. I was very pleased with my experience with Babes Flowers- In the past, when I've ordered flowers online from other places, sometimes the arrangements looked different or didn't meet my expectations. The arrangement from Babes was SO BEAUTIFUL! The flowers were supple and fresh. One of my mom's coworkers told me she was grinning from ear to ear when they arrived. They also stayed beautiful all week. Thanks Babes!
The flowers arrived on time and they were what the picture showed. We have family members in Sheridan that I like to send flowers to on occasion, now that I know of Babes Flowers, you can be sure that I will be doing business with you again.
wonderful service and the item we ordered was more beautiful than the pictures!
my sister was very happy with the arrangement, thank you so much
I received a candy bouquet from Babes and it was SPOT ON!!! Everything was delicious! I recommend Babes to anyone!!
I always get great service and beautiful plants, or flower arrangements. I am a lifetime loyal customer.
All the flowers I've ever gotten from babes have been spectacular until this last arrangement. It seems the flowers will easily last 1-2 weeks or longer, but the arrangement of daisies and bluebells I got on Friday were wilted and drooping by Monday. We will still continue to use Babes, cause, like I said, all other arrangements have been spectacular and long lived. Hoping this was a one time occurrence.
Heidi's Reply:
Date: Aug 22, 2016, 10:19 am

Hi Sarah, Thank you for the review. It is our policy to replace flowers that don't hold up, as we do guarantee the quality of our flowers. I'm not quite sure what happened to your bouquet, we will definitely replace it with a fresh one tomorrow when we receive our shipment of fresh flowers. Please let us know anytime you have unsatisfactory flowers and we will take care of it right away. Thank you!!
Beautiful, perfect, and delivered quickly.
Great arrangements and good service. Thanks
The flowers I received for my 10th wedding anniversary were absolutely gorgeous! My husband said he ordered a dozen yellow/orange roses, but you ran out of them before getting to my bouquet. You replaced his order with all yellow flowers and they were beautiful. Thank you, Babes Flowers, for making our special occasion that more special.
The flowers were stunning and delivered on time!! I will use you for all my floral needs in the future!
Excellent presentation. Prompt & friendly delivery by John. A pleasant surprise.
The flowers were fresh and beautiful.
Great service! I was able to actually see the flowers a week later and they were still beautiful and just what I'd ordered! Thank you, Babes Flowers!
Excellent service. I will use you again if I need service in Wyoming.
The bouquet was beautiful, and Don was surprised they arrived. He was told they would be late due to the lack of flowers left for Mother's Day, yet the bouquet arrived as hoped. Way to go Babe's!
Babe's is a great place to get gifts and flowers for my family. They have always been fresh and beautifully designed.
Wonderful and friendly service. I would definitely use them again.
The process of ordering flowers was easy, straightforward and convenient. According to the recipient, the arrangement was very beautiful, was delivered on time and lasted several days. When you order flowers that you will never see to be delivered a couple thousand miles from your home, it is nice to have a company you can trust to do a wonderful job! Thank you!
Babe's deliverd a plant and balloon bouquet to our son & "daughter" for their new home. We were very impressed with the quality, colors and presentation! It is difficult ordering something long distance (we live in Michigan), but we were delighted and so were our "kids"! Thank you!
Babe's has been delivering flowers to our front door here in Sheridan for almost 38 years..they consistently do a great job..in choice. The last one was a surprise for us from our daughter and her husband out in Seattle. Cheers to Babes
Babe's has always had excellent service and products.
Beautiful arrangement. He has used an 800 number to order flowers for 11 years but he swears he will only order from Babe's from now on. Thank you!
Thanks so much for delivering the flowers in a timely manner to a public building. I worried something would go wrong trying to do this from the other side of the country. It all went well and my friends were happy to receive them.
Hi you guys did a great job! The bouquet of flowers that you delivered to my sis-in-law was gorgeous and it made her day! Thank you so much. Kindly, Susan
Easy online order, prompt delivery and beautiful flowers
The flowers were delivered promptly. The relatives thought they were beautiful. The flowers cheered up the recipient (Minerva). The Iris lasted a long time.
Flowers were beautiful and fragrant and still are.
My aunt loved her birthday bouquet. And thank you for delivering it on time!
The flowers were/are still lovely.
I live in Arizona and they did a quick way to get my daughters flowers for her birthday and they made it so easy and convenient. Thank you for the smile on my daughters face.
the pink roses my husband send me were BEAUTIFUL, made my whole day...
It was so nice getting an email when my order was received, and another when the flowers were delivered
The arrangement was beautiful and the delivery was prompt. I would order from Babes Flowers again. It was hassle free for me.
Tell your crew they are the best, keep up the good works, you make smiles not arrangements, thanks
The red and white roses were beautiful. I received a lot of compliments on the bouquet and people asked which florist sent them- hopefully you will get some more orders over the holidays.
Always great customer service and the freshest flowers. Being able to ensure out time delivery is so important living out of state and I know I can trust Babes to have the best quality.
I ordered my flowers on-line. It was so easy! They arrived at the location I asked for on time. They were beautiful! I will order from you again in the future!
ABSOLUTELY BEAUTIFUL AS ALWAYS!! And I loved the "non-traditional" glass vase, I will be able to use it for other things after the flowers are gone. :)
The flowers and arrangement are beautiful. They made my day! I will recommend your shop.
The flowers and arrangement are beautiful. They made my day! I will recommend your shop.
Wonderful customer service. The recipient preferred to have the flowers delivered on a different date, because she was going out of town the day after delivery. You all were very accommodating with arranging a different delivery date with a fresh new delivery. Really beautiful flowers as well. Thank you!
Love this place aND always order my flowers from this place for my family that lives in Sheridan. Wonderful business
Fast service beautiful flowers, easy to order. I will be getting flowers here again. Thanks!!!
The delivery timing couldn't have been better! Although I am sure it wasn't planned in advance, it was perfect. Will definitely continue using you in the future! Thank you!
Thank you so much in contacting me to let me know that others for the same function selected the same flower arrangement and you supplied me cost effective options. Dealing with you was not an "on-line" experience, it was a small town experience. I was impressed!!
Elderly aunt had a birthday. She loves purple. This bouquet fit her perfectly. It was delivered a day earlier than I asked, but she was thrilled. Easier ordering on line than on phone. No problems at all.
plant received was healthy. delivery was cheerful.
I love dealing with Babes. The staff is always so nice and they always provide such great service. They are my #1 go to in Sheridan!
Very Pretty! I live out of town my daughter sent picture of them.
The flowers were beautiful and my mother loved them. However, I had clicked to add chocolate and she received a box of white "chocolate". She is not a fan of white chocolate and wound up trying to give them away. It would help in the future if the option description was for the actual item offered.
Great customer service! Best flowers in Sheridan!
I truly enjoy the flowers and plants that I receive from Babe's.
My friend loved his flowers and balloon but the hospital never delivered the candy. He had been in for leg surgery so we thought he should've gotten it but to no avail.. otherwise excellent. All the way around! Cheering him up.was worth the lost $10. Thanks!
Service was great and flowers were fresh. Thank you!
Flowers were received on time and lovely. Your fine quality of service has not changed, through the years. Thank you, for your excellent service.
Both my Mother and Mother in law loved their flowers for mother's day. One of the bouquets had to be delivered to Ranchester and they delivered it earlier than I expected which was great.
Service was prompt but all the added on fees did not make me happy. What did make me happy, was that the flowers were beautiful (I was texted a picture) and delivered in a timely manner. I've also been told that they are lasting a long time except for one rose. I would use Babes again and recommend it.
I had two arrangments ordered and delivered on time. I understand they were beautiful, that you for a job well done - and online even
I had flowers delivered to my friend's mom. Unfortunately she was gone at that time, and was not going to return for a couple of weeks. Babes Flowers were so wonderful...they asked that she call them when she returned so they could put together a new bouquet to be delivered to her. I would definitely use their services again!
Excellent, fast, easy online experience. Will definitely use again! Thanks!
Flowers arrived on time and were exactly what I ordered. Good service and would use again if needed.
Flowers were beautiful and great service! Thank you!
Excellent quality and service!
Easy experience, no problems on either end, and excellent service, as always!
Easy to place order. Person receiving the flowers loved them.
The website was easy to use and the flowers were received. I didn't get to see them so hope they were as pretty as the picture in the add.
They call me to verify type of flowers very polite.
Very good service. I ordered a plant that was out-of-stock but not stated so on the website and they promptly called and substituted a better plant for no extra charge. I highly recommend doing business with this company because they understand customer service.
Great service and convenient. Cost was a little high.
These flowers were for my nieces 18th birthday and she absolutely loved them!! They were fresh and she loved the smell. I'm very happy with Babes Flowers :)
I had a great buying experience with babes flowers...Everything was perfect!
was great helpful beautiful and fast!
I was very pleased with the service I received from Babes flowers. I ordered the flowers in the morning and they were delivered the same day. I was on the phone with my mother when they arrived and she kept saying how beautiful they were, thank you.
Heidi's Reply:
Date: Jan 23, 2015, 9:32 am

Thank you Aurolyn for the kind words. We are glad to be of service and we look forward to helping you again.
Great buisness i will use again
The flowers arrived while I was on the phone with my mother and she kept saying how beautiful they were. Made my day! Thank you.
website is easy to use, love the choices.
My Dad loved the flowers! I got a picture of him with them.
Easy to order and even call in and make a change. Beautiful arrangements every time.
I ordered very late for a funeral and the flowers arrived on time! I'm very grateful for your wonderful customer service. Thank you so much!
I want to thank you for the outstanding service. I ordered on line the night before, and they were delivered in the snow in beautiful condition. Thank you for making the second delivery attempt since she was out in the morning. You helped to make it a great birthday!
I saw some photos of the flowers we sent to the funeral and they were beautiful. Thank you so much for your excellent service.
I appreciate it that you always call before you deliver. Thanks!
Name:
Beverlee and Lowell M
The flowers arrived in good condition. I like the vase and will save it for garden flowers. I do change the water every day in the vase, as advised.
Absolutely excellent service! The flowers and fruit arrangement that I ordered were wonderful. Thank you for taking such wonderful care with each. -So very appreciated!
Great service thank you! I live in Idaho and I wanted to surprise my forest service girlfriend in sheridan and I was able to buy online and everything showed up perfectly and looking gorgeous. Also the price was much more reasonable compared to other options in town. I will be ordering here every time- thanks again-
Easy and always beautiful
Thank you so much. My mother loved the flowers!
The arrangement I received was excellent! It had some of my favorite flowers, and the colors were soft and well blended.
The flowers are always fresh and beautiful and they also have creative and unique arrangements.
The flowers were delivered on time and the recipient loved them. I even heard that after one week, they are still beautiful. Thank you.
The flowers that were delivered were just beautiful and they completely matched the photo depiction. They were delivered on time and perfectly. Thank you!!
Easy online ordering and always beautiful flowers. Thank you!
I love having the opportunity for feedback and the ease of ordering if I need to. The flowers were gorgeous but when I changed the water & added floralife there were many cut stems (not attached) from filler flowers in the vase. Not sure why. I have always been satisfied with your arrangements and continue to be. Thank you
The flowers are fresh, beautiful, and last a long time. Heidi keeps me informed of the order status. My mom and mother-in-law both live in Sheridan and they are both always thrilled with the flowers that we send to them from Babes!
The flowers were absolutely beautiful!
The person who received the flowers told me they were beautiful. Thanks
I ordered the plant to be delivered on a Thursday. The recipient got out of the hospital sooner than expected. I called the shop early Monday morning, asked if the delivery could be made sooner in the week, and the person who answered the phone took care of it. The recipient was very pleased with both the plant and the candy. Thanks for the great service.
I didn't send the average flower memorial arrangement. I sent a gourmet food basket for sustenance while my friend planned her mothers funeral. It was beautiful and very much appreciated.
Beautiful flowers,and so long lasting!
WOW!!! My husband received a gift basket for his birthday on the 15th. What a wonderful gift. Definitely hand picked fruit it was all perfect. We enjoyed all the other goodies included. I have told everyone about your very special basket. Thanks BABES!!!!!
As always the flowers for the Memorial we ordered were lovely. I let Babe's choose the arrangement and it was beautiful! We have used Babe's for years and never been disappointed.
The arrangement came on time and looked much like the picture. The recipient was very surprised and pleased.
The flowers were lovely, and I appreciated the phone call to make sure I was home and to let me know that the bouquet was on the way.
My bouquet was beautiful and fragrant as always! Thank you.
The recipient of the floral arrangement was VERY pleased and assured me that it was nicely done and delivered on the day I ordered it...thanks...
This was a last minute order. I was very pleased. The flowers were delivered on time and the recipient was very happy.
Online ordering was quick and easy and very helpful for someone who lives 800 miles away to send flowers to a loved one.
my sister loved this bouquet
My Mom hasn't stopped talking about the gourmet fruit basket yet! So for that alone, you get a super duper rating. :) The selection of fruit and goodies couldn't have come at a better time as she was quite under the weather and this made it easy for her to grab something knowing she was getting necessary nutrients at the same time. I will absolutely order again as it's so much better then getting flowers. The added chocolates, cheese and crackers were tasty tidbits too! Thank you so much for putting this special package together for her.
Beautiful flowers and very helpful with questions I had.
Always a great product with great service!
When Babe's couldn't fill my order right away, Heidi contacted me via email ASAP. Because I really wanted only yellow roses, my friends favorite, and the delivery date wasn't all that important, she agreed to send them 2 days later when she would have the yellow ones. My friends sent me a photo of them, and they were beautiful and much appreciated. Thanks, Babe's and especially Heidi, for the bright spot to my friends otherwise sad occasion.
The arrangement was jam packed with lovely bright & colorful flowers. It was delivered to my home out in the country - what a nice surprise on a day when I wasn't feeling well. I am still smelling the flowers and smiling. Thanks Babes!
Great service - loved the candy.
My most recent Valentine roses were absolutely beautiful! Every bouqet I've either received or sent have always been of excellent quality, not to mention the friendly staff!
The flowers I received from my daughter in Texas were awesome! Babe's did a wonderful job as always!!
Beautiful arrangement! Great Job as always!
Babe's flowers are always beautiful and delivered timely with a smile.
I was extremely happy with my flowers that I received for my birthday! I have always had good luck with Babe's flowers in the past and will continue to use them. I have had nothing but problems with Annie Greenthumb flowers(which I also received for my birthday) holding up and when trying to deal with the staff at the local store, all I ever get is grief and am made to sound like I am the one who is difficult or as the staff person said, am nasty. I was always under the assumption that the customer was right and shouldn't have to argue my case, which is what I experience with them. With Babe's, I have never had to complain, as their flowers and balloons have always held up & the price has always been right. Annie's is expensive, and I will continue to highly recommend Babe's over Annie's any day!!!
My mother really liked the flowers that I had sent to her. Very bright and the color arrangement was attractive. It is sometimes expensive to send flowers but I have always had a good experience with Babes.
A beautiful arrangement that still looks fabulous almost a week later!
My flowers were fresh, beautiful and well arranged. I absolutely loved them. Babes is awesome!
I loved the new convenience of a website to order!
The arrangement was beautiful and was delivered on time!!
I have always relied on Babe's for exceptional quality and service. I have been a customer for many years and have never once had any problems!
Wonderful customer service and the flowers are gorgeous.
The flowers were beautiful and the receiver was extremely happy with them!
I love Babes Flowers. I have ordered all my prom flowers, wedding flowers, sympathy, and birthday flowers from you. Always very pleased.
Great service from Babes! Have always called but the new website is great. Thank you Babes!
Great arrangement - perfect size for my desk. Colors and flowers are still brilliant. Thank you very much Holly Mraz ERA
Our recipient said the flowers were beautiful. Thank you for making Mother's Day great!
rec'd the beautiful arrangement flowers still doing ok
The basket of flowers is exactly as my son ordered from Kentucky, and I am thrilled with its beauty. I especially like the touch of the butterfly!
I am always so pleased when Babes Flowers is able to bring smiles to our family in Sheridan. It's nice being able to have that personal connection while our nuclear family continues to move around the country. However, we are able to still connect with where we left our hearts. Thank you so much! From a long time customer, Shel Barker
My wife loved the arrangement. The service was wonderful as usual from Babes. That's why I go there.
Great job, Babes...My wife was thrilled. The arrangement was just as pictured too!
The arrangement is beautiful as always, and the delivery man is precious!
My experience with Babes was excellent. My girlfriend loved the arrangement she received for Valentines Day and I am very happy that Babes still provided the accompanying card, even though my message was longer than the character limit :).
Beautiful candy basket. Babe's always has wonderful arrangements with flowers that last.
rec'd beautiful arrangement. flowers are still great
I wasn't home and you left a note for me to call you so you could deliver them. I think your great! My husband I will continue to use your company.
Everything was great, thx!
I've been a customer of Babe's Flowers for years and now LOVE to be able to order on-line for arrangements I send out of town. Their arrangements are awesome...as lovely (or even more so) as any I've seen.
I am pleased with this feedback. I am in Arizona and wasn't able to attend the funeral service for our friend. I can only hope delivery was on time. I thank you.
I always have a great experience every time that I order flowers!
The plant was beautiful! Thank you.
Ordered from out of state on internet and was pleased that flowers delievered were like picture shown on website. (I Rec'd picture from receiver of flowers) Happy with Babes and will order again from them.
Provided an wonderful arrangement! Could not ask for better service.
very satisfied with the beautiful arrangement you prepared. flowers are still in very good condition.
I am very pleased with all that you do. I thank you very much. Happy Holidays to All of you. Shelly Scott
No problems. Recipient loved the arrangement.
The experience was pleasant and very helpful.
My aunt went on and on about how fantastic her fruit basket was!! There was lots of fruit! Thanks for doing such a great job with this and making her birthday present fun!
Very lovely arrangement and delivered right on time.
The recipient of the arrangement was very pleased with her sruprise. Also I was very pleased with the promptness and so I would definitely give you a 5.
The recipient of the arrangement was very pleased with her sruprise. Also I was very pleased with the promptness and so I would definitely give you a 5.
exellent all around i use babes twice a month and they always do an amazing job!!!
As always your flowers are beautiful and delivery is always prompt. Glad you finally got a website up for purchasing direct, it makes it so much easier to order and select flowers than doing it over the phone.
Always have had excellent service, great prices, and personal touches that just make it a special experience! I wouldn't order from anyone else!!
This is way more helpful than anything else I've lokeod at.
Very satisfied with the arrangement and the service.
Wonderful job - thank you for being accomodating when he wasn't home and you had to redeliver! Thank you!
I recieved Excellent and pleasing service when calling in my flower order. Best price I can remember when sending over the phone.